After several months of experimenting with engraved QR codes we are pleased to announce that we are now offering QR codes engraved on slate and marble. We can either engrave onto a separate plaque to affix to an existing memorial, as a stand alone plaque to be wall mounted or laid flat or onto our freestanding slate memorials. We are not currently offering OQ codes engraved into sandstone.
QR Code Examples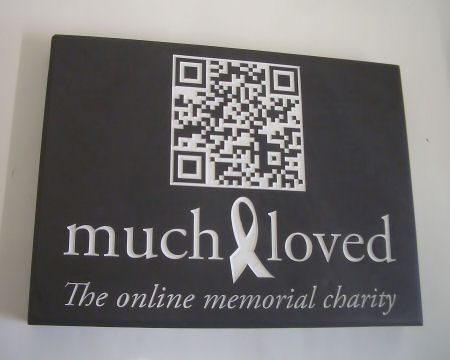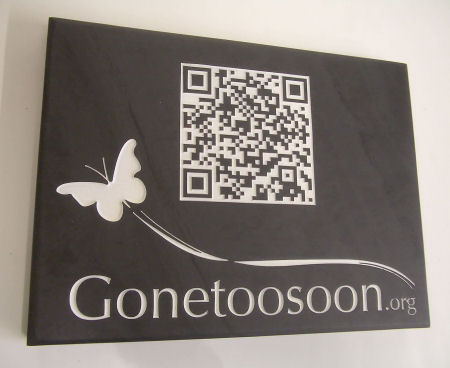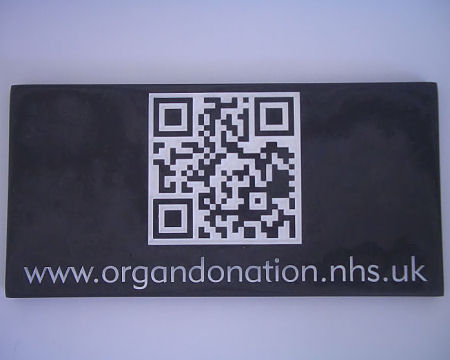 What is a QR Code
QR is abbreviated from Quick Response and is a matrix barcode made of blocks of squares. If scanned with a Barcode Scanner (available as a free app for most mobile phones these days) the information encrypted with the code, such as web address, email, mailing address, phone number etc, will be transferred to your phone either to save as a contact or visit the site in question.
Why would someone want to use a QR code on a memorial stone?
With this internet age, more and more people are using websites such as Much Loved and Gone Too Soon to create an online tribute to the departed. These tributes can contain pictures, video, music, text as well as allow family, friends and colleagues to log in to comment or even light a virtual candle on some websites. A whole lifetime of events can be archived to be accessed whenever you want.
Wouldn't it be amazing if all that online information could be linked and even accessed from that person's physical resting place, gravestone or memorial plaque? The engraved QR code is the link to that person's former life and can say so much more than a gravestone ever could on its own. A child's drawings or school nativity play, or even the special moments of a persons entire life including marriage and children can be mapped and viewed at the scan of a code. Even a persons entire time line on Facebook!
Are they hard to make?
Anyone can make a QR code by visiting sites like QR Stuff where you can add all sorts of data. All the extra data can be useful for businesses but if too much data is added to a memorial QR code the chances are it will become too complex to engrave. So, it's best kept simple. We create a code and then download it in the highest quality possible format. It's then digitised so that we can engrave it into the stone. After engraving it's then painted. Then is the scary bit. We test it. If any mistakes are made the code will not work. Hence why we practised for several months before announcing it!
We sent examples to the larger tribute sites muchloved.com and gonetoosoon.org to see if the were interested in promoting this venture with us – hopefully in the future people will be able to order an engraved QR code when they sign up to make a tribute for a loved one. Hopefully, teamed up with Much Loved or Gone Too Soon, we can make this appeal to a much wider audience.